"Hum Tum mein sirf ek hee problem hai,
Ki 'Tum' ke baghair,
'Hum' adhoore hain…"
I remember watching Kunal Kohli's Hum Tum when I was very young. To an impressionable mind at the age of ten, there were moments during the film where I felt frustrated with Saif Ali Khan and Rani Mukerji not realising that they are meant to be together! They are aware of their feelings, but circumstances are such that they are unable to profess their love, and just be with each other.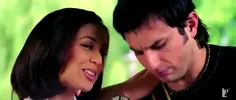 The duo was fun, they looked great together, and honestly, I cannot think of any other pair that could have pulled off the film better. Even though every meeting of theirs, at every phase in life, was seemingly a happy coincidence – it was also nothing short of a disaster! Something or the other had to go wrong, whenever they met.
"Jab bhi hum milte hain,
Kuch na kuch toh galat hota hee hai"
From the first time they met on a flight, to their banters at her wedding, their little misunderstandings, and the moment they realise their love for each other – the film was an emotional roller-coaster, keeping me at the edge of my seat, waiting for 'the moment' of acceptance.
Not mentioning the changes in hairstyles, look, and personality of the duo, through the course of the film, their journey itself is interspersed with fun, friendship and frolic! Saif Ali Khan's string of unsuccessful relationships and Rani Mukerji's marriage that ends in a tragedy makes them both grow as people.
The thing I love most about Hum Tum and the trajectory that its characters follow, is that even though they are not together all the time, their relationship with each other is still the same. Their core beings are unaltered and every time their meeting results in a laughter riot!
Why is it that some relationships become more special than others, effortlessly and without expectations? This is what Hum Tum made me wonder -the fact that it took Rhea Prakash and Karan Kapoor so many years to realize that they are meant to be together.
"Pyaar toh ek hee tha,
Par woh meri zindagi mein baar bar aaya"
With some typical 'she vs he' banters, great comic-timing, amazing music, and the adorable comic strips to top it all off – Hum Tum was the perfect amalgamation of a whole lot of ingredients!
Hum Tum had comedic interludes that didn't overpower its intentions of being a romantic film. Its breathes and pauses kept the suspense unhindered, and still left me asking for more! I must have watched this film at least half a dozen times, and trust me when I say this – it gets better with every watch. The film's dialogue is the perfect summary of how I feel for the film –
"Kabhi toh pehli hee mulaaqat kaafi hoti hai,
Aur kabhi bahut see mulaqaatein lag jaati hain"