Cult audiences tend to gravitate toward the strange and different. And 1990s was an amazing decade for Hindi movie buffs. The comedies were actually absolutely funny, the romance was real sickly-sweet (not in a bad way at all) and the music at least made sense (that explains it all!) Fear not my fellow old-school romantics, classic never fades, and here, some #90sCultClassics for you to binge on. And for you too, noobs… Lights, Camera, NOSTALGIA!
1. Agneepath (1990)
A movie that was way ahead of its time, Agneepath has grown a strong cult film over the years. It is watched, re-watched, and re-watched again across generations over and over. Indian Scarface? "Hain"??Haan yaar. Violent and ambitious, the only difference in this adaptation is that the hero's motivation comes from revenge. A powerhouse of intensity from B-Town's 'Angry Young Man', we wonder why it's Big-B's most under-appreciated feature…
2. Andaz Apna Apna (1994)
It's been 24 years (say whaat!) and AAA has aged brilliantly. That Prem-Amar chemistry… ENOUGH SAID!!!
3. Khiladi (1992)
His first hit as a leading man, Khiladi is the movie that made Akshay Kumar a star.  Babies born in the 2000s, you've been fondly calling him 'Khiladi' did you know this is why?  If you fan-girls haven't watched this one yet, JUST GO RIGHT NOW! Put it on download right away! We do mean right away, btw! You'll do it later? "Wada raha sanam"?
4. Hum Dil De Chuke Sanam (1999)
Aishwarya Rai's 'Hum Dil De Chuke Sanam' is hubby Abhishek's favourite romantic film. Released internationally as 'Straight From The Heart', this is a magical film in every aspect. The man who understands matters of the heart, Sanjay Leela Bhansali is seen maintaining his artistic score even today. #Classic!
5. Phool Aur Kaante (1991)
This movie enjoys a unique place in cinematic history for the unanimous approval it received from all the cinephiles out there, old and new. For a few others, it's a forgotten remake of 'The Godfather' (I hope you all knew that, noobs. Now go watch it, in any case)
6. Baazigar (1993)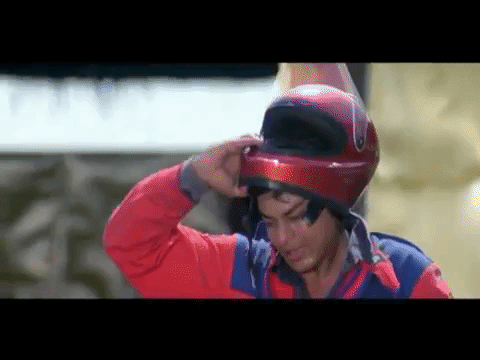 A revered quintessential, this movie is a cinematographic monument.  For the first time- we saw a film centered around the anti-hero; and for the first time, playing the shady villain was our king of romance, SRK. The population of people who haven't watched this one can actually fit in the space of a room? Am I right?
Giving up on his image of a heartthrob saving a heroine, SRK won a 'Best Actor Award'. Haven't you heard? "Haarke jeetne wale ko baazigar kehte hain"
7. Dil Se (1998)
Amar and Meghna's intriguing love story is unlike any other Bollywood movie. They share a kind of love we do not see today, the kind that is probably rare and uninitiated. Sharukh Khan and Manisha Koirala teach us you can love someone from a distance, that love is relentless yet selfless. AWWWWWWUGHH! *Goes home to re-watch 'coz nostalgic, but stops quickly at the grocery store to fetch a box of tissues 'coz who's going to love us like that?* Why did Bollywood stop making great movies like this one? If you haven't seen it, you've surely missed out on something.
What is your #FavCultClassic? Share with us, in the comments section below.