Fair warning: This may read like a love letter to the most important song of ever time and all time – 'Chunari Chunari'. But it can also be a love letter to Karisma Kapoor's svelte self being a demure housewife, to a fierce woman with an agenda. 'Biwi No. 1' was a slew of countless "No.1" movies; comedic, mindless, and entertaining. These movies usually had a male protagonist being the Numero Uno. So when Kapoor came alight on the screen as the 'Biwi No.1', it wasn't quite the feminist triumph, but the movie brought the age-old formula of 'pati patni aur woh' with a rib-ticking delight.
But to me Biwi No. 1 was essentially the movie that brought me two everlasting loves. One was for Chunari Chunari; the other was the mod-lehenga of Karisma Kapoor in Jungle Hai Aadhi Raat Hai. The latter was an important step in the character progression of Kapoor's Pooja. This was her Betty Draper story line of being married to an infidel. Pooja was vivacious, smart, and sassy when she and Prem were dating, and then as soon as she settled into the mundane groove of being a wife and mother, the marriage became boring for Prem to stray!
The song is a precursor to the damning spell Kapoor sets to leave once she vows to get her husband back from the "clutches" of the other woman, who finds out about her husband's affair on a fateful Karva Chauth, when the family dog dashes to his owner's new home! Gasp. But before all that, there is the song between the once-upon-a-time lovers romancing each other with an exotic parrot as a prop. And we see the absolutely glamorous Karisma Kapoor sliding onto the screen in a metallic bustier, black maxi skirt with long slits, and an effortless little black stole doubling up as a dupatta.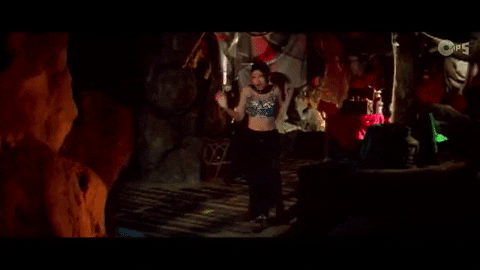 And speaking of mod-lehengas, Sushmita Sen was probably setting trends left right and center with her velvet turtle necks and long bellowing skirt or the matching overlay lehenga skirt in the aforementioned shaadi anthem, Chunari Chunari. But Sen also brought forth her A-game winning herself an award for her portrayal of Rupali, the model who is ambitious in a stereotypical Hindi movie way, that she can't possibly want a family because, work.
Digression aside, however, there was no turning back on the fact that Sen's thumkas and Salman Khan's neon suit made the song a cult classic, coupled with a music that you just can't sit still to, with lyrics that are a perfect addition to the whole shebang. The song however, like many other icons, sought to severe popularity as Neha Dubey danced to it in Mira Nair's Monsoon Wedding. But the humble origination of this song can never be forgotten.
Alongside this song, was another chart-buster with a turbaned Anil Kapoor, serenading everyone from Prem to his new partner Rupali to his beleaguered wife Pooja. The song was a defining moment for Anil Kapoor, who provides laughs with impeccable comic timing, supported by his on-screen wife, Tabu. There is also a seemingly bemused Saif Ali Khan as the estranged boyfriend of Rupali, making this movie an over-the-top mixture of wits and tongue and cheek.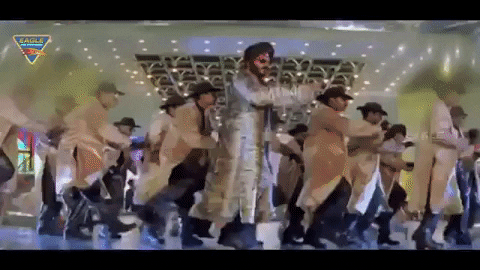 Biwi No.1 tried to be a Bollywoodised version of misbegotten feminism – but it was hardly that. However, if we were to not view the characters with ideological vantage point, it is a movie with some really funny moments, some fantastic songs, and a brilliant power-struggle portrayed by the two female leads: Karisma Kapoor and Sushmita Sen.