I don't get football, no I don't get cricket either; but I am one of those who loves watching sports films, I get a weird kind of adrenaline rush, watching them struggle it out on reel. I know the real life experience is way better, the rush headier, but honestly that's not for me. However, in my defense I knew about David Beckham, who didn't! The poster boy of English Football, an East Londoner who rose to prominence playing for Manchester United and soon became a Global Brand. Plus, of course he was also married to Posh Spice, but that was all I knew about Beckham!
So in the summer of 2002 comes a film Bend it Like Beckham, coinciding with the World Cup frenzy that was gathering momentum. If you thought sports films were not for women, well it had two women who wanted to dribble into the English team, one a desi and the other a local, united by their love for football! Yes, this was the film which introduced us to Kiera Knightly and Parminder Nagra.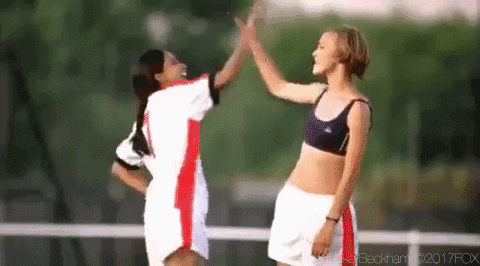 Meet Jasminder Bhambra or Jess who has no interest in cooking gobi aloo or making round round chappatis, she rather be kicking the ball.  She lives in track pants and tees and does not dress 'girly'. A first generation British Asian, Jess is disconnected from the traditions which bind her parents as well as their struggles as immigrants making home in a society and culture so far removed from theirs. The Hindi title for the movie truly was apt – Football Shootball Hai Rabba !
Jess wants to play with her idol David Beckham, she can 'bend' it like him after all, and sure she does not have a shot playing for Manchester United, but she would be happy making it to women's football team, also! As she remarks, "I didn't ask to be good at football, Guru Nanak must have blessed me."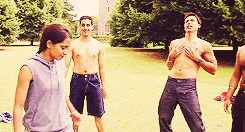 Well, instead of being encouraged, her father tells her, how he was a good cricketer, but these goras will never accept her as their own, just the way he was tossed out of because of his ethnicity. Does that make a dent in her aspirations? No! But her dilemma obvious, caught between her soccer dreams, filial loyalty and her own identity of self in a cross cultural scenario.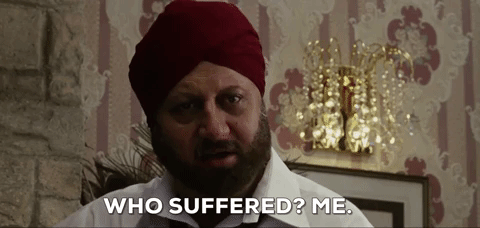 In comes Juliette Paxton a lower middle class English Girl from Hounslow. She shuns her ultra feminine name, opts for being Jules and shares the same determination as  Jess and that's to play football. So when she gets Jess into the Hounslow Harriers, it's their best kept secret.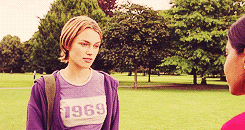 As Jess rebels and gets out to play, on the other end is her older sister Pinky, played by Archie Punjabi, engaged to be married. Pinky too defies the norm, her clandestine rendezvous with her fiance before marriage, unthinkable if the family knew, but then it's obvious distinction between the reality of the parents caught in a time wrap and the daughters exploring life as they know it.
So as Jess and Jules embark on their path to football glory, its obvious they are not your quintessential 'girlies' but neither are they queer as imagined by their families. Yes, Jules is seen admiring Jess' football moves before she suggests her to join the Hounslow Harriers. They live in tracks, play sport, worship David Beckham, wrestle on the field but- hey don't the boys do the same too?! Paula, Jules' mother mocks her daughter and talks about how Sporty Spice is the only Spice Girl without a boy, so Jules tells her homophobic mother being gay is not a big deal anyway- and furthermore living in tracks and playing sport does not make her a lesbian.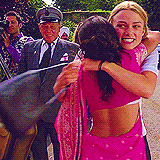 Whereas, Jess has her extended family asking her to be a bit more feminine and snag one of the good mundas soon. Jess' mother admonishes her "your sister is getting married and here you are sitting and watching this skinhead boy", but Jess couldn't give a damn!
Then the classic happens, when Joe the cute football coach played by Jonathan Rhys Meyers walks in, not only does he encourage Jess to play, he even reaches out to her parents to not crush her dreams. The on field chemistry translates off field as romance brews between the two.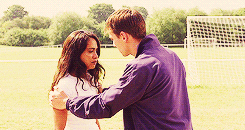 So does Jess Bhambra, the desi girl gone all wrong, gets corrupted by the 'white' culture? Well no. Caught between the cultural identities, as Jess bends the rules that bind her, we also see her family bending to seeing the world through her eyes.
Bend It Like Beckham, a British film won hearts across, including America as the theme resonated with many caught in a similar scenario. Last but not the least , the film's soundtrack was an eclectic mix, on one hand as Bally Sagoo sang 'Noorie', you had the Punjabi song for all seasons 'Jind Mahi' by Malkit Singh, on other you had Blondie's high octane 'Atomic'. After all anyone can cook aloo gobhi, but who can bend a ball like Beckham, so as David Beckham turns a year older, not a bad idea to revisit this film, init!