'Jab Pyaar Kiya Toh Darna Kya?', Madhubala's 'Anarkali' may have defied 'Emperor Akbar' as she proclaimed her love for Salim played by Dilip Kumar in Mughl-e-Azam. But that was 'reel', in 'real' – the story panned out differently, as she could not stand up to her father, and be with the man she loved.
Yes, we are talking about the ill-fated love story between the 'Venus of India' Madhubala, and legendary actor Dilip Kumar. According to Bollywood folklore, the love story began when they starred together in Tarana, in 1951. It was on the sets of this film that the actress bravely professed her love through a letter written in Urdu, which was sent to Dilip Kumar via a make up artist.
She had sent a rose along, saying his acceptance of the flower would mean a 'Yes' from his side; if he returned it, however, she would take it as a 'No'. The rose was accepted, but the path was not a 'rosy' affair.
In his book The Substance and The Shadow, Dilip Kumar said, "I must admit that I was attracted to her (Madhubala), both as a fine co-star and as a person who had some of the attributes I hoped to find in a woman at that age and time. She, as I said earlier, was very sprightly, and vivacious; and, as such, she could draw me out of my shyness and reticence effortlessly."
Madhubala's father, however, disapproved of the romance, since she was the sole earning member of the family. He didn't want to lose their 'breadwinner' to love and marriage. According to sources, her father had his own production company; and for him, if the two had to come together professionally, it would have been the perfect business venture.
The couple continued their love affair in spite of the odds – Dilip Kumar even proposed marriage to her several times. In 1956, on the sets of Dhake Ki Malmal, he asked her to marry him immediately. The condition being, she would need to end ties with her father.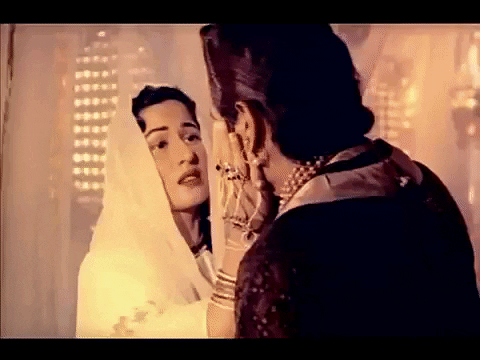 Caught between the two men, her silence was the end of the Dilip-Madhubala romance. Matters came to head when her father intervened during the shooting of Naya Daur asking for location change. The director of the film dropped Madhubala and cast Vijayanti Mala.
Madhubala's father sued the director; and even though Dilip Kumar testified in court against Madhubala's father, he did proclaim his love for the actress, calling her father a dictator who ran the show for her.
In the meanwhile, the couple were also filming Mughl-e-Azam, which took ten years in the making. Ironically, the greatest love story in history; but their own story was panning out quite differently.
Dilip Kumar admits that the director wanted to mend things between them.
I sensed, Asif was seriously trying to mend the situation for her when matters began to sour between us, thanks to her father's attempt to make the proposed marriage a business venture.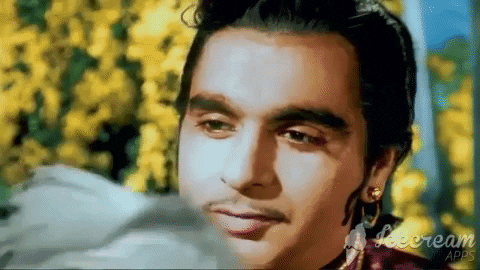 When the iconic feather scene between Salim and Anarkali was filmed, Madhubala and Dilip Kumar were not even talking to each other. In 1966, she was detected with a serious heart ailment. And even though, by then she was married to Kishore Kumar – which many say was on the rebound – she was heartbroken that Dilip Kumar had married Saira Bano.
On February 23 1969, days after her 36th birthday, Madhubala died, and it would not be wrong to say she died of a broken heart.