Bollywood's forever young star; an actor who has not only defied age but has managed to reinvent himself through the years, remaining relevant in an industry known for it's frivolity.
Yes, jhakkas to that! Anil Kapoor who made the tapori moves look so cool, that the steps have made their way into Bollywood's hall of fame. A journey that began 38 years ago, the actor says he owes it to his insatiable hunger for good scripts, directors and his strong sense of belief.
Anil Kapoor recently commented he is the "marathon man not the sprinter and was never under the delusion that the world of showbiz revolved around him." Admitting that he knew he wasn't in the league of the so called "good looking drop dead gorgeous heroes, he was in it for the act", he was a performer who could metamorphose with ease on screen. An actor who began his journey with South Indian films, made his Hindi film debut with Woh Saath Din, but it was Yash Chopra's Mashaal  in 1984 which made the critics and fan take notice of the stubble sporting, a bit unkempt looking scrawny looking young man. His flair for comedy came to the fore with Chameli ki Shaadi  but it was Shekhar Kapoor's  Mr. India which shot him to superstar status. From playing the angry young man in N Chandra's blockbuster hit Tezaab, the comic wayward Lakhan who was an ace at one two ka four in Ram Lakhan or the vulnerable Karan in Parinda or the autistic Eshawar in Eeshwar he proved his versatility as an actor . In the 90's on one hand he may have had films like Kishen Kanhiyan and Beta, but on the other he splendidly played the role of a middle aged man caught between being the object of devotion of a young girl as he continuously grieved the death of her mother who he had been infatuated by in Lamhe. The film remains his career best till date. Success like 1942 A Love Story, Ladlaa, Judaai, Virasaat, Pukar, Nayak and the subsequent national award, that he won proved that Anil Kapoor had carved his own niche at the box office.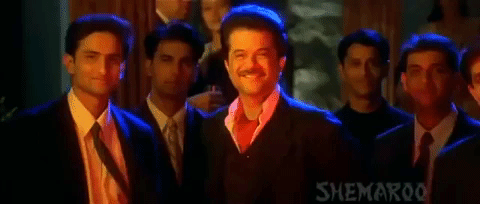 Though in early 2000s he continued to star in films with an ensemble cast, Danny Boyle's Slumdog Millionaire in 2008,  in which he played a TV host, was a proud moment for the star.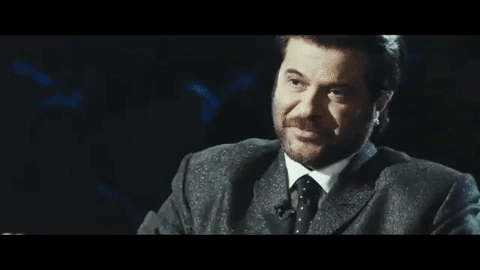 This was also the time I discovered the actor's philanthropy, supporting a children's NGO, he told me "it's the blessing of these kids am telling you, I owe it to them. He donated his entire pay cheque to the cause and was not the one to make the headlines about his good deed.
Switching gears with ease to playing character actor roles in films like Dil Dhadakne Do, the actor also produced the desi version of  the hit Aemrican series 24 for desi audience. "I have always re evaluated myself, you cannot afford to be lazy, you need to reinvent yourself with the changing times"
From films to TV productions, his film production company looks out at getting new content out, the actor giving full freedom to daughter's Sonam and Rhea, he jokes, "you know I feel bad for my wife she has to deal with three actors in the house( talking about himself, Sonam and son Harsh) and you know na we as a tribe are so vain. But Sunita is the ringmaster at the house".
Yes his wife of 35 years who married the then struggling Anil Kapoor is the anchor  of the Kapoor Khandaan and he proudly states the fact- 'the boss is my wife'.