From Bareilly to Los Angeles via Mumbai, she came, she saw and she conquered!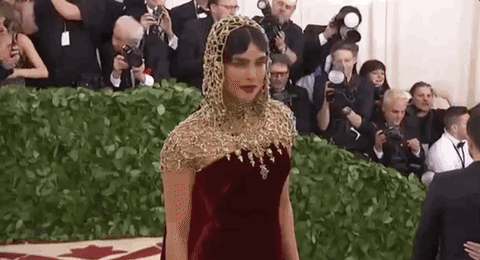 A nose for opportunity, unapologetically ambitious, driven to succeed -she is a woman who packs in 72 hours in a 24 hour day. An astute businesswoman, who crafted her career to her advantage, yes it's the one and only Desi Girl Priyanka Chopra, who is now a global brand to reckon with.
What strikes one about Priyanka, is her confidence which she carries effortlessly as she wears her stilettos! So when she said, "Don't try to squeeze into the glass slipper, shatter the glass ceiling." 
We knew that this was a girl who walks her talk.
I first met Priyanka Chopra in 2000, the 17-year-old had recently been crowned Miss World, and as she balanced the crown with ease and was excited to explore what lay ahead, she shyly admitted that it was her mother who had mailed the pictures for the contest and how keen she was to finish her Class XII exams. Though of course college was soon traded for film studios, as it was a given Bollywood was indeed the final destination for beauty queens.
The films happened; from love triangles, to playing the antagonist to playing the object of the hero's affection, Priyanka shared screen space with the biggest stars, but as is always the case, it was the leading man carrying the film and the actress's contribution purely incidental.
Eight years into the film industry, though she was in the league of the top heroines, she was yet to be recognized for her acting chops. However, 2008 was the year which turned the tide in her favour, from Fashion to Dostana to Kaminey to Saat Khoon Maaf and though the kitty of flops was larger, she proved she could not be written off.
Known to carry off a tune rather well, singing was the next stop and the Desi Girl decided to go international, from a single featuring American rapper, singer song-writers Pitbull and will.i.am in 2012, it was time to test foreign shores. As she gave some noteworthy performances from a Barfi to a Mary Kom, even playing a supporting role in Bajirao Mastani, she had her next move planned.
Crossover to Hollywood, a route taken by many before her, from blink and you miss appearances to pivotal roles, however the enterprising actress decided to make her way internationally through television.
Paying the lead in the American television series Quantico, the spotlight was on Priyanka Chopra, she was the first South Asian actress to play the lead in an American series, she broke the stereotypical imaging of Indian actors abroad. Quantico may not have done much in terns of ratings and by its third season had tanked, but Priyanka Chopra had made her place as an influencer and a global brand.
From Hollywood fashion soirees like the Met Gala to red carpet outings to presenting awards at the major ceremonies from the Golden Globes to the Oscars, she was a guest on almost all American TV talk shows. She even bagged a dinner invitation to the White House, and went as the bridal party for the Royal Wedding of her best friend Meghan Markle to Prince Harry of Wales.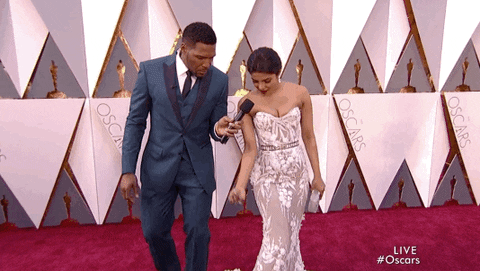 You could not miss Priyanka Chopra- she chomped on chicken wings with Jimmy Fallon, she downed tequila shots with Ellen Degeneres,  she played to the galleries, touched on topics the Americans and Desis both loved to hear: from racism to people of colour finding their place under the sun to breaking stereotypes, she spoke candidly about past boyfriends, which had many at home wonder "who could that be?"! Even as naysayers wondered about her accent- well critics be damned- she was India's biggest export to Hollywood.
Priyanka Chopra was the belle of the ball, living out of a suitcase, sometimes jet-setting across three continents in a span of 48 hours, balancing professional commitments with philanthropy, she did with ease.
I remember asking her, how she deals with jet lag?
Pat came the response, "I have trained my mind, to master time zones, so my body does not feel the jet lag". Let me tell you I believed her, because there seemed nothing that Priyanka could not do.
Next up was her gracing the cover of TIME magazine in 2016 as one of the 100 most influential people, she was one of the three Indians on that list and the only one from the Hindi film industry.
Back home she had already started her own production company, the actress had signed a few Hollywood projects from Baywatch to A Kid Like Jake to Isn't It Romantic, her visits back home became, or as she announced "back to the bay", become few and far in between.
As they say nothing succeeds like success, Priyanka channelized her energy in making a name for herself internationally, whether it was through in-your-face billboards or magazine covers, it seemed everyone knew Priyanka Chopra, even those far removed from Bollywood and her life back home.
But, working alongside Priyanka is her PR machinery, her manager and team which has left no stone unturned in the creation of brand Priyanka. A team that smoothly works alongside making her elusive sometimes, and easily accessible other times. A strategy which has paid off – after all what's a star without the right marketing and influence?!
Fiercely private about her personal life, one saw another facet to her personality, as she was spotted along with, an American singer ten years her junior, Nick Jonas sending American and Indian tabloids into a frenzy. A few months into the "so called speculated" relationship came the engagement and the fairy tale wedding.
As many hushed whispers on the age gap did the rounds, the majority applauded her- she was a woman who didn't live by the rules as she made her own. "What has age go to do with it, do you ask a man why he married a woman two decades his junior, so why a woman?," was her response to a prying journalist.
A day after her wedding, she was back to business, launching a social networking business app, and admitting she would always be fiercely independent and yes she would need to unlearn a few things since she was now married but that would no way change her outlook.
Social media became her way of letting all into her fabulous life, from vacation posts with the Jonas khaandaan, to PDA posts with husband Nick, to candid pics which made many wonder if they were staged for social media. She glided from one glitzy event to another and she balanced it with work. If she wasn't fulfilling her job as a Goodwill Ambassador for UNICEF, she was collaborating with the best in the business, like her a recent project with actor, screenwriter and producer Mindy Kaling.
So when she is asked "Is the world your oyster Priyanka?"
"Why just the world?! It's the whole damn universe!," comes her response.
Yes indeed, Priyanka Chopra Jonas is your Girl Uninterrupted!