All nice girls love a sailor
All the nice girls love a tar
For there is something about a sailor
Well you know what sailors are… went the old British song of the early 1900's.
It certainly rings true for a lot of women, for whom the sight of an officer in a uniform is simply irresistible. For me 'men in uniform' were no novelty, as I grew up surrounded by them. My fascination, especially with the Navy (I am Naval kid), charmed by the 8A (the regular naval uniform), number 2 being the white ceremonial uniform or even the 6B – the Red Sea Rig (white shirt and black trousers with a cummerbund). Accessorized with aviators, it was a complete package.
The summer of 1986, months short of my 14th birthday, came Top Gun – a film about a devil may care Lieutenant Mitchell, popularly known as Maverick, played by Tom Cruise, an American fighter pilot – who joins the elite Fighter Weapons school – Top Gun, in California. He is drop dead gorgeous, reckless – with an attitude to match. He is flirtatious, remember the scene of him serenading Kelly McGillis to "you have lost that loving feeling" in the bar, only to see her as his instructor in school the next morning. It seemed that my perfect man in uniform had finally manifested, even if it was on-screen!
So, as Maverick took us along with his 'need for speed', engaging in combat sequences mid-air, on ground he was  zipping off on his motorbike down the palm-lined Californian landscape, in his bomber jacket and aviators, to romance his instructor – who obviously too, had not been able to resist his cocky charm. But then, he was also a man's man. Remember his bromance with his wing-man Goose? They were partners in crime. Each other's strongest support. Goose is by his side in the cock pit, on the volleyball court and even his back-up singer to snag the girl.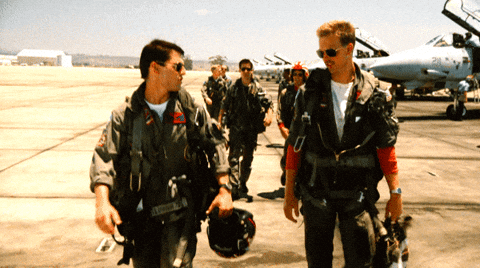 But Maverick was imperfect. He was a broken soul, who was haunted by his father's death and the loss of his wing-man. The one last combat, however, proved how much of a dare-devil he was. As he shot down the bogey planes to emerge as Top Gun's best pilot, against his arch rival Ice Man played by Val Kilmer. And finally, it was none other than Ice Man who reached out to him, with the iconic dialogue of all time "you could be my wingman any time", Maverick retorted "Bullsh%t, you could be mine".
But he had another ace up his sleeve, as he told his Commander, "I want to be an instructor, Sir – in Top Gun". God save us all, well that was Maverick for you. To use the urban lingo these days, he slayed it and how!
Top Gun spawned a craze for bomber jackets, aviator shades and of course, it didn't get cooler than being in the "armed forces", as an entire generation lapped up the hymn of testosterone driven fly-boys .
Tom Cruise was my poster guy of cool, his Maverick was my man for all seasons, a perfectly imperfect guy. It's been 33 years since Top Gun released and it remains a film that I unashamedly admit to watching every time it pops on my TV screen, mouthing the dialogues which I know by heart and wearing the same goofy expression as my 14-year-old self did.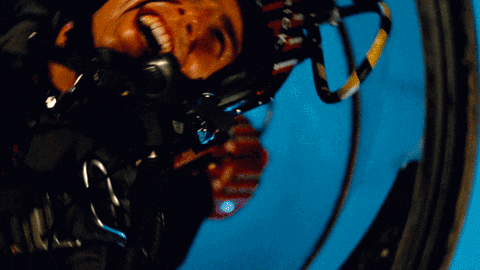 My heart still skips a beat, when I recall the last scene from the film – as Maverick strolls into the diner, with his jacket thrown over his shoulder gets himself a chilled beer, the coin being inserted into the juke box, as you have lost that loving feeling plays out yet again and Kelly McGillis , says "I heard the best of the best will be back".
A high-octane naval drama with a fairy-tale ending. Yes, I know for many there are things which are all wrong with the film – from being called sexist, bombastic, combat porn. For me, however, it continues to give me the unabashed guilty pleasure of those teen years gone by. It leaves me happy and chuffed, that I am actually in a zen like zone.
Of course, not to forget the kick ass soundtrack, which is played on loop, even three decades later.
My pre-teen nephew – who rolls his eyes every time I put up a Top Gun post or song on my social media profile to indulge myself – asked me, "Oh my lord, I heard you had Top Gun posters in your room, how come you haven't met your Mr Right, yet?
Well blame it on Maverick, son! Here is a wing-man I want for keeps.