It all began with a chance encounter with Andy Dwyer on the hit TV show, Parks & Recreation. Mr. Dwyer, with all his clumsiness, was easy to dismiss at first. Who would've thought that eventually, this goofy boy would become a global crush.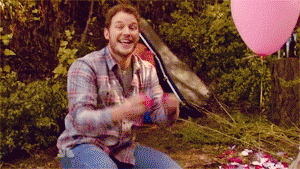 There he was, an unkempt man dressed in dirty, checked shirts, falling and stumbling all over town and yet, flashing the most adorable smile through it all. Chris Pratt made 'Andy Dwyer' one of the most lovable characters known to television. No surprises there, because Chris himself is too cute to be true.
Okay I'll confess. From klutzy sidekick to a glorious Guardian of the Galaxy to badass dinosaur researcher — I've been head-over heels in love with Chris Pratt through it all. He's a magician with his acting, wit, kindness and well, looks! I know, I sound like a lovesick fool, but who can really blame me? I mean, look at him: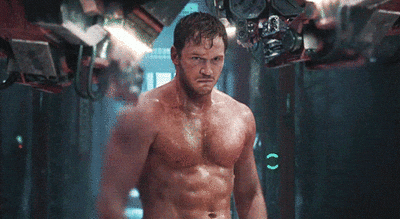 What's not to love when the man can so effortlessly switch between 'adorable' and 'sexy'? Also, he's a real-life musician, and has got some pretty sweet moves on the dance floor. And yet, despite all his other-worldly talents, he is so, so relatable! Man, Chris, you make it really tough to not be attracted to you.
Hey guys I think I'm doing a REDDIT AMA tomorrow. Am I? I'm on a plane right now. And I can tweet. And rink tequila. Yes! godBlessPlanes

— chris pratt (@prattprattpratt) April 24, 2015
As an ardent fan, one can't miss just how amazing he is in the family setup. The divorce from Anna Faris is a sore subject so I won't go into details. However,  it needs to be said that Anna and Chris will always be relationship goals. Always. Next time you have a bad day, don't turn to giant tubs of ice-cream. Just see their family pictures and cry happy-sad tears. Lots of them.
Sappy stuff aside, Chris will always be a source of positivity and joy. Did you know that he visits children in hospitals? He's proof that no matter how far you get in life, you're never above kindness.
From his hilarious tweets to his powerful film performances, the world feels happier with Chris Pratt around. Call me crazy, but in a world full of Chris Hemsworth, Chris Evans, Christmas and all other Chris(es), I will always choose the wonderful Mr. Pratt.