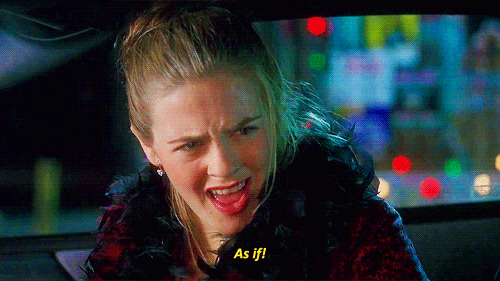 As If! The two words that were immortalized by Cher, the do-gooder, bad driver little rich girl of Beverly Hills. She who swayed between naivete, innocence, and sometimes just plain kindness. She who only ever dreamed of being with Luke Perry; whose life basically revolved around her father; who was loyal to her best friends (even when Tai was bugging); who had witty repartee for her pretentious bourgeoisie older step-brother! Cher Horowitz made it okay to be rich and not be a b*tch and she made kindness the only virtue one should strive for. Cher Horowitz wasn't ready to just settle to be a typical trophy wife whose life's purpose is to idle her life away at Sunset Boulevard – no she was a stickler for perfection. She knew what she wanted, and she sought out to get it. Even if that meant debating in class about the Haitians or wearing a slinky Calvin Klein to get a certain blue-eyed boy to notice her. But then why was Cher clueless? She was clueless in understanding her own mind, while taking care of everyone around her.
This movie adaptation of Jane Austen's Emma is a masterclass in talking about how a female protagonist on-screen can either play a helpless damsel in order to appear endearing, or how she can actually truly take matters in her own hands by living a life on a pre-set round of ideals. It is these ideals, patterns and movements, that prove Clueless to be a lesson in social- capitalist theory. Even though Alicia Silverstone's character is a do-gooder in a swarm of spoiled and privileged Los Angelers and she strives to use it for good, she still has an exact idea in her mind what constitutes this 'good' – she considers herself a "have" in matters pertaining to aesthetics and persuasion, and her friends / teachers the "have nots" who she tries to "makeover". The premise is stoked in self-righteousness, but Cher's lovable self looking for validation and redemption through her acts gets the viewer over the abject ditziness her character displays.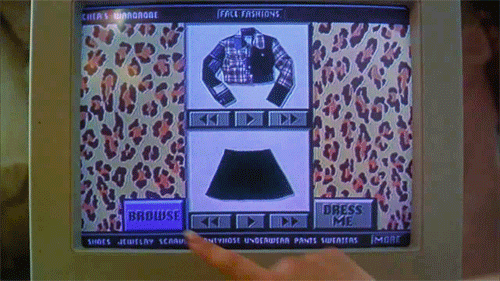 Alicia Silverstone plays Cher with a genuine good-naturedness that makes Cher anything but a 'full- on Monet'. Not only Cher looks like the perfect girl from far off, but she isn't a mess when you get near either. Cher's fashion in the movie was a cultural pinnacle, we mean hello – Azzedine Alaia as far as cinema landscape goes; so was the vocabulary of Cher – because not everyone is a Betty. Silverstone was the perfect Californian Emma who wanted to live in a world that wasn't just a manifestation of her rose-tinted glasses.
There is a scene in the movie where at a party she tries to set two of her friends, and thereafter the guy in the aforementioned set tries to force himself on Cher – now this moment stands as a crowning jewel in understanding consent. Even when it's between good friends. Cher had her feminist ideals juxtaposed with her overt feminity and she didnt confuse the two or felt the need to override one with another. Of course her self-assuredness took a hit every now and then, especially when she knew the world saw her a bimbo who had daddy's money and a revolving closet, or when she was a "Virgin who couldn't drive" – but Cher was so much more. She was someone who got two lonely professors together and helped an entire school stuck in a warp of bad grades and uneven temper. For every little Professor Higgins' esque sermon she doled out to her bevy of Eliza Dolittles, there was a challenge she put herself through too. Cher walked the talk.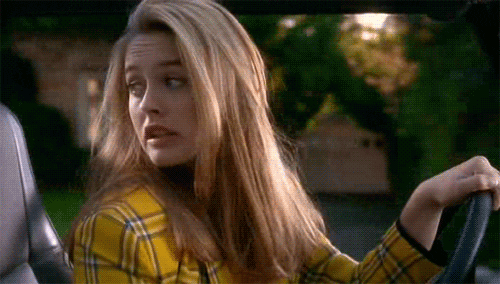 Clueless taught teenagers and adolescents and women and men around the world how important intentions are. How important self belief is, and how you should never judge a book by its cover. A message reaffirmed a decade later by Reese Witherspoon's Elle Woods in Legally Blonde. Clueless' Cher wasn't a snob who believed there were people beneath her and ergo she should treat them differently, she acknowledged the disparities however and tried to bridge them. For the sake of an aesthetic equilibrium.
Clueless is not just a cult classic, but a movement in how we study characters and movies; and Cher is a subject of how a female protagonist can traverse a path that has been set to set her up for failure, but doesn't simply because she owns that what makes her different. It's not her wealth, but her selflessness that takes her beyond everyone, including even Dionne (her best friend who was also named after a singer). The movie, lastly, is an evaluation on how the idea of a privileged white girl can morph into more than just her superficial "superiority"!