We all sneak a little me-time at work, however there's quite a difference between a 10-minute Instagram feed check and 1,265 hours of 'Friends' binge watch. In that case, one ex-employee of Robert De Niro, that me-time is costing her quite a fortune.
Robert De Niro's production company Canal Productions is suing an ex-employee Graham Chase Robinson for $6 million (₹ 42,86,43,000) for binge watching Friends on the clock. According to reports, the company filed suit against its former president of production and finance for "breaching her fiduciary duties, violation of the faithless service doctrine and conversion". The suit accuses Robinson of binge watching 55 episodes 'Friends' in just 4 working days. That's not all, during another four-day binge; she allegedly watched 20 episodes of 'Arrested Development' and 10 episodes of 'Schitt's Creek'. The striking irony in this case is that Robinson's duties included making sure employees weren't misusing company funds, and that's exactly what she's also accused of.
Further, Canal Productions accused Robinson of misusing millions of De Niro's money. After her promotion in 2017, she allegedly spent the company's money to charge "hundreds of thousands of dollars in personal expenses," including hotels, taxi and Uber rides, a Louis Vuitton handbag, Whole Foods groceries, iPhones as well as a dog sitter. She even passed off the actor's over five million frequent flyer miles (that's around ₹ 89,30,062) for personal trips. To top it off, according to the lawsuit, when Robinson resigned in April, she allegedly penned her own recommendation letter that De Niro refused to sign.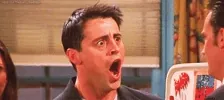 If you're still not taken aback, wait till you hear this. Robinson amazingly also faked she had accrued up 96 unused vacation days over four years, collecting "in excess of $70,000" as a pay-out. However, the lawsuit claims having emails that not only prove Robinson took those days off, but she actually exceeded her allotted time. And mind you, all of this was going on while she was receiving a $300,000 yearly salary (₹ 2,14,32,150).
According to reports, Canal Production is seeking $3 million for Robinson's "misappropriated" funds and property and another $3 million for her "disloyalty and violation or the faithless servant doctrine". Can anyone be anymore screwed?