I am not a cook by any measure of anything, I mean I can cook but its a laborious, very reluctant effort that is not at all relaxing or cathartic. However, people always find that one dish that is their calling, or that one moment where they realise that there is an inner chef in all of them waiting to come out of the trenches. Some like to bake, some like to deep fry, and others like to just use pansies to fashion whatever morsel they have managed to whip up. However, some are passionate about it, and there is very rarely does one feel that passionate feeling as a proxy. This is my story of countless of us who began to love cooking after watching the movie Julie & Julia.
Read: 10 Years Of Julie & Julia: A Movie That Made Us Terribly Hungry!
Starring powerhouses of acting like Meryl Streep, Stanley Tucci, Amy Adams, and Chris Messina the movie is about a Queens, NY, resident Julie Powell who has a boring and often sad job dealing with the aftermath of 9/11; its a cocktail of tears and sighs. The only thing that truly makes her happy is food. Now her friends are all influential career women dressed in pearls and equestrian scarves and ordering the same salad, and Julie looks at them wistfully. But she doesn't know that her calling is in fact in the offing. Enter Julia Child. An icon. By no measure is the history of culinary endeavours of the world complete without the mention of Julia Child. Julie decides to blog Julia's recipes from her cookbook. Over the course of several months, and several semblances of sanity.
More than a rom-com, more than a chick-lit, more than just another movie – Julie & Julia brings to fore grit, passion, perseverance, and sense of self before all else. The movie takes food as a champion of self-belief and reliance. Both Julia and Julie find themselves, their repressed voices, their unheard claims in a passion they feel for food. The movie not only made us hungry, it made us hungry for more – more of everything we got from the world, and the strive to reach that zenith.
The movie is the perfect accompaniment for sappy days, for sad days, for glum days, for happy days, for creative days, for lazy days. You can just fry butter and your problems will be okay. You can just bake a tiered chocolate cake, and what's misery even, or you could sit with a bunch of takeout and look at a lot of things getting braised and boiled and bouefed!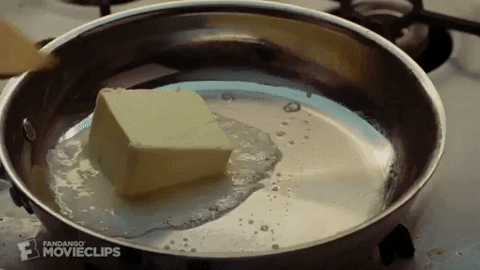 If nothing else, what you can do with the movie is basically start your own chapter of creativity. Cooking is just what we see here, but the message is that its never too late to indulge in your passion in an all consuming way, and its never too insignificant to tap into your creative and intuitive self, but also that when the world is uncertain and tragic, you have to be your own hero and your own mentor and save the day!