From calling out racism and sexism, to a repertoire full of witticisms, to heartstring tugging speeches, to a surprise performance that resulted in one of the most befuddling moments of Oscars history. The 92nd Academy Awards were unique in ways we can't even tell you! But we tried, and noted down some of the best moments from the ceremony.
1. Natalie Portman's Tribute To Female Directors
Natalie Portman decided to honour all the women directors snubbed by the Academy, by wearing a cape over her Christian Dior dress, that had a lapel naming all the women who weren't nominated. What a trailblazing moment in advocacy and fashion.
2. Janelle Monae's Opening Act
#Oscars Moment: @JanelleMonae kicks off the #Oscars with an opening number that leaves everyone feeling alive! pic.twitter.com/J76UFuqxby

— The Academy (@TheAcademy) February 10, 2020
From honouring Mr. Rogers, to Midsommer, to Little Women – the opening act that came with an ebullient Billy Porter and was a wonderful to start a hostless awards night!
3. Steve Martin and Chris Rock's Presentation
Aside from basically addressing the elephant in the room (no women representation in Best Director) with the eloquent "missing vaginas" schpiel. The two were funny, especially because it was followed by a trite and unnecessary bit by Julia Dreyfus and Will Ferrell, and the two were relevant and explicit in showing their displeasure towards the Academy.
4. Kristen Wiig and Maya Rudolph's Presentation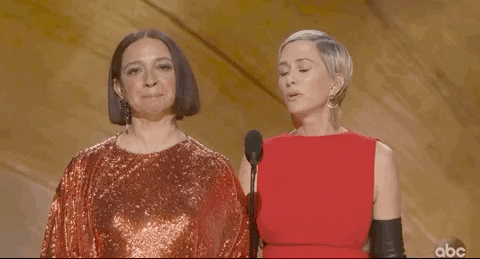 Not that it comes as a surprise because these two have an absolutely cracking chemistry, but the duo was absolutely hilarious and witty. Their outfits too, were quite spectacular – ending the stereotype of funny women needing to ascribe to masculine accouterments.
5. Eminem's Surprise Performance
Look, if you had another shot, another opportunity… Thanks for having me @TheAcademy. Sorry it took me 18 years to get here. pic.twitter.com/CmSw2hmcZo

— Marshall Mathers (@Eminem) February 10, 2020
The reactions aside, the rapper's performance of his Oscar winning song Lose Yourself, was one of the most gobsmacking occurrences of the night. Eminem had famously missed receiving his Oscar statuette, and now he was looking for redemption, in a totally unique way!
6. Oscar Moms
The best plus one as per Oscar Nominees were mothers! So many red-carpet memories were made by a lot of A-listers coming arm in arm with their favourite person!
7. Everything Bong Joon Ho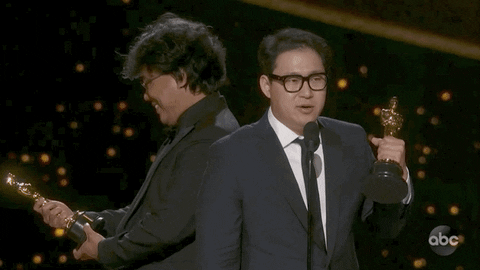 When Bong Joon Ho won the Best Original Screenplay, there was a sublime smile and giggle of adoration he had as he looked wistfully at the Golden statuette. Then when he won his next, for best International Feature Film and best Director – he thanked all the other nominated directors alluding his skills and craft to what he has learnt is all from these men! Bong Joon Ho made history on so many levels, that his pure and unadulterated joy just warmed our hearts even more!
8. Laura Dern's Speech
Laura Dern's speech was an absolute tear-jerker, getting both Greta Gerwig and Noah Baumbach (the partners directed her in Little Women, and Marriage Story) very teary eyed. For the acting family that Dern belonged to, this was the first acting Oscar for them. To witness this moment was both beautiful and warm.
9. Joaquin Phoenix's Speech
The actor took the stage, akin to how he took the BAFTAs stage, to discuss all that plagues the world from despots to race to religion to colour to sexuality. But, the true beguiling moment was him talking about his late brother River Phoenix. He ended his speech quoting him, "Run to the rescue with love—and peace will follow."
10. Shia Lebouf and Zach Gottsagen's Presentation
The Peanut Butter Falcon co-stars Shia LaBeouf and Zach Gottsagen presented at the 92nd Oscars on Sunday. Gottsagen became the first person ever to present at the Academy Awards to have Down Syndrome.
11. Margot Robbie Timothee Chalamet's Red Carpet Photobomb
These two shared the best moment on the red-carpet, full with playfulness and utter beauty!
12. Hildur Guðnadóttir's Win
Winning for Joker, Hildur's victory comes in 23 years after the last time a woman won for Best Original Score.