"There was my name up in lights. I said, 'God, somebody's made a mistake.' But there it was, in lights. And I sat there and said, 'Remember, you're not a star.' Yet there it was up in lights."
― Marilyn Monroe
Curses usually work in an odd way. Some are mythical, some are passed down in legacies, some are our own burden. Marilyn Monroe's personal life was a curse she truly believed she was living through on a daily basis. Something that riddled her life with abject paranoia, and ultimately caused her to take her own life at a young age of 36. But to the layman, her superficial trajectory makes the melancholy of it all very befuddling.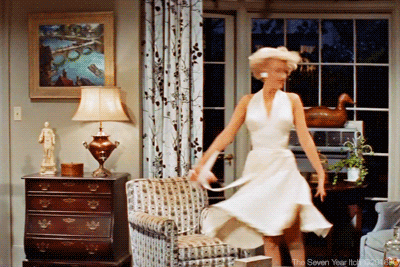 What could a woman want more? She was the darling of an entire country. She was photographed extensively; created an imprint that is relevant to even this day and age; she was beautiful, she was sexy, she was the vivacious blonde-blue-eyed girl who became a character prototype. But was she happy? Her drug overdose death was perhaps the culmination but in no way the singular testament of how anxiety had crippled her self-worth. Perhaps why her death sent shockwaves around the world. The girl whose bellowing skirt atop a subway grate immortalized itself as the "Marilyn Moment" universally. Monroe not only won hearts, but also accolades. She was nominated for BAFTA twice, won a Golden Globe, and did 32 films, which included acclaimed hits like Bus Stop, The Seven Year Itch, Some Like It Hot, by the time she was 36. She was truly an embodiment of picking herself up after the most unfair of all tragedies to relentlessly establish herself.
She wasn't the sex symbol who we mindlessly harp on about in today's world, she was a woman who felt so much and so deeply that she left everything to her mentor and acting coach Lee Strasberg, and eventually helped the running of the Lee Strasberg Film Institute in New York. Strasberg and his wife's finding of monroe's personal writings helped make the book fragments that chronicle each and every point of insecurity, vulnerability, unsurity, and unstability Monroe felt.
But Monroe's entire life-scape was one tragic page after another – born Norma Jean Baker, daughter of a single mother who was a schizophrenic, she largely lived in state homes until her marriage to James Dougherty at the tender age of 16. That marriage ended in a divorce, marking the arc of adolescent tragedy for the young girl. Her next marriage to popular Baseball player Joe DiMaggio ended in just 9 months due to apparent controlling nature of DiMaggio who had had a problem with Monroe's Seven Year Itch billboard. Her final marriage to playwright Arthur Miller was perhaps the most turbulent but also the most important in terms of how the world saw her. And then there was the John F. Kennedy affair which divided the world into two halves: the Jackies and the Marilyns. But no man, no dalliance, no romance should take place as the real legacy of the actor. Nor should her stature as the ultimate pin-up girl.
Monroe's stature should rather be in the library of books she built for herself, most of her photographs whether curated, orchestrated were of her effortlessly perched to a book. This phenomenon grew so much in pop-culture that the internet actually has pages with reading lists that pay homage to the late actress. Her legacy is in the vulnerability she possessed even at the zenith of her illustrious career. Her true legacy are her words, her words that always searched for a true recipient to those. Someone who could be as gregarious in loving as she was. Someone who understood the complexities she travelled with. Someone who just didn't see a gorgeous blonde bombshell, but the shy being who rested behind the veneer.