Yash Chopra movies, especially the ones that he directed, had an aura of taste. It was almost as though he specialised in film-making and aesthetics. Every frame adorned panoramic vistas, beautiful overarching facades of buildings, soulful music, hopeful love, coiffed men, and absolutely stunning women. Whether it was the 60s darling Sadhna in Waqt who had her bouffant, her snug churidaar-kurtas, her perfect sarees with Chantilly lace that went perfectly with the demure of jewellery – or whether it was Sridevi's Chandni in ski sweaters or bright chiffon sarees making way for the late 80s modern girl – or whether it was the surreal beauty of Rekha in Silsila with effortlessly long tresses, bold make-up, minimal make-up but statement hairdos, floaty silhouettes and halter neck blouses.
The quintessential Yash Chopra heroine was fierce in her ideals, traditional and optimistic, but a stickler for opportunity. She was shy but not timid; she was principled but not self-righteous, she was mysterious but not evasive; she was the object of so many of our affections. The Yash Chopra heroine ran in the expansive tulip fields with a wild and assured abandon of what lay in front of her. There was a playfulness about her that wasn't about naivete but about graceful mischief. She knew what she wanted, and she got it. She was, at once, both the Nisha and Pooja of Dil Toh Pagal Hai. She was the obedient, traditional dancer bound by a sense of duty; she was also the ambitious and independent working girl. Her personality, often annotated by her stylistic preferences, and for that we have for you times when this woman, never a trope, always a wonder wore her individuality. Quite literally.
1. Meena Mittal, Waqt
For the effervescent rich-girl character, Sadhana's Meena wore pastels, whites, and coral with subtle baubles and statement hairstyles, with shades of light hues. She was the 60s graceful girl, basking in the glow of love.
2. Sonia Kohli, Daag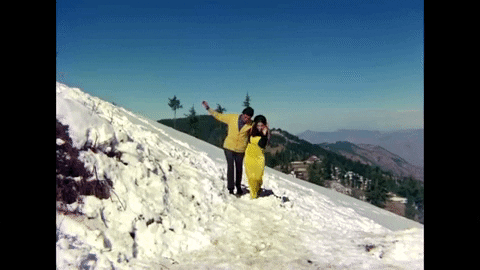 Sharmila Tagore's Sonia was both a blushing lover and bride to Rajesh Khanna's Sunil and subsequently his apparent widow. But Sonia in her former avatar was all about the 70s college-girl aesthetic of pigtails adorned with paisley scarves, blush pink make-up, western clothes and hoops that were the hallmark of the decade.
3. Pinky Kapoor and Pooja Khanna, Kabhie Kabhie
Neetu Singh's Pinky was just any other girl like all of us. She had her shares of highs and lows in life but what's remarkable of the character is her ability to take everything in her stride. Pinky's cheerfulness was testament to her happiness, and that was visible in her flowy feminine silhouettes sometimes borrowing from her lover's accessories, a la beret. A girly girl with her ideals in check, Pinky was every bit of a young and stylish girl!
As for Rakhee's Pooja, she was the idealist. With her dreamy eyes and shiny black hair that saw consistent style changes, her love for the romantics and her impressionable glean. Dressed in frothy tulle and fuzzy furs, she was looking for familiarity and comfort in love, but with some dreamlike adventure.
4. Sheetal Verma, Trishul
Hema Malini's Sheetal was one of the first businesswomen to grace Yash Chopra's cinema. She was spunky, she was privileged, she had her work ethic in sight, but also wore her heart on her sleeve. Dressed in sleeveless blouses, polka dot sarees, business suits, cocktail gowns, with jewels that spelt oomph – she was the unafraid modern woman!
5. Shobha Malhotra and Chandni, Silsila
Jaya Bhaduri's Shobha was an unlikely Yash Chopra heroine. She wasn't flirty and frolicky, she was reserved and stoic. She wasn't floating in an air of feminine paraphernalia, but in understated muted tones even if she was in silk sarees, her mood was mirroring her style; when she was in red and gold, she was defiant, and when she was blissful, she wore light colours . She was accepting of circumstance without feeling defeated.
The stark contrast was of Chandni; the ethereal, alluring Chandni who sat perched on a sofa twirling her hair in bold colours. She was the quintessential Yash Chopra heroine, glossy and effortless. Chasing your whims and fancies as you daydream, making your present even more enchanting. Chandni, true to her name, glistened and glittered like a fantasy.
6. Chandni Mathur, Chandni
However Sridevi's Chandni ushered in an era of the bright chiffon on mountaintops. She believed in fantasies, and fantastical scenarios. Feminine and beautiful, Chandni was a hallmark in the cinemascape of Yash Raj Films.
7. Pooja, Lamhe
Lamhe was a trailblazer movie when it came out. It dealt with relationships like never-before and presented a romance that was even taboo. However the characterization of Sridevi's double role of Pallavi and Pooja was truly the remarkable aspect about the movie. Especially when it came to Pooja. She was a young girl in love with a man who loved her dead mother. She was rebellious and unflinching in her demeanour, she was coyly teasing with the idea of a forbidden love in feminine reds and oranges, while claiming the right to an emotion as pure as love in frosty whites. She was the girl who knew her mind and was unapologetic about it.
8. Kiran Malhotra, Darr
The faced that launched, well, not a thousand ships, but a violent quest of love. Juhi Chawla's Kiran was tethering on the cusp of danger but unwilling to bow down in front of it. A woman who believed in the perseverance of her love above all else. She didn't lose her individuality even as a man vowed to possess her, her exuberance and her charm rose above. And how she wore those traits was a true proof of the way she kept ahead her choice even in the event of grave intensities.
9. Nisha and Pooja, Dil Toh Pagal Hai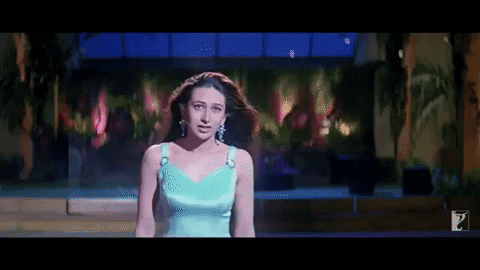 Ah, Nisha. Karisma Kapoor's Nisha was feisty and career-oriented. She was hot, she was talented,  but she wasn't flighty. She was persistent. She was a total sartorial victory in terms of her fashion statements and also a victory in her lifestyle choices.
And then, lastly, there was Pooja, the mystical dancer who lived in a dream like stance. Quiet yet emotive, she had rhythm in her body and draped in pastel translucence it shone across. Madhuri Dixit's Pooja was similar to Chandni from Silsila, stunning and enamouring, making everyone weak in their knees!
Gifs Courtesy: Yash Raj Films Youtube and Giphy
Main Image Courtesy: Twitter