Just like every teenager hitting puberty, the first thing that a Desi mother hands you over are a pair of cotton undergarments. Well, just like me, even you can relate to this. The idea of trying various types of intimate garments was introduced to me when I landed in the capital city and got introduced to the concept of 'playing with different types of lingerie like lacy, babydoll, etic to set the mood right.' 
My partner and I always talked about spicing things up in our sex life, and to do so I thought of purchasing 5 different types of lingerie. Well, you might not believe this, but my sex life went from 'aaj mood nahi hai' to 'let's do it baby!'. So, not wanting to keep the secret to myself, I feel that this experimental knowledge needs to be shared with the world. So, women, here are are 5 lingerie styles that I wore and you can purchase too to elevate your sex life: *wink wink*..Take a look…
Lacy Babydoll
Babydolls add to the natural power of seduction and are meant to enhance the sex appeal of the wearer. Opt for the one that not only makes you look sexy, but comfortable to wear. You can pair it with a panty of similar color or design for a perfect match.
Bodystocking
My personal favourite – Body stocking is an excellent piece of clothing that hugs the body in a sexy way and highlights all desirable features. They are sexy to look at and you can even accessorise them really nicely to enhance your play time. Also, try fishnet ones, believe us, you won't regret it!
Shop Here: Filpkart Bodystocking
Push Up Bustier
Push-up bustier can make any woman feel confident instantly. It has the power to make you feel sexy and beautiful. A corset and a bustier can look similar but the only difference is that a corset will cinch while the bustier will boost. Pushup bustier can enhance your breasts. So, try this one especially if your partner is really into or has a thing for your chest area.
 Shop Here: Push Up Bustier by H&M
Lace Garter Set
A piece of clothing that can grab your partner's attention in one go. Garter belts are extremely feminine and are for women who like to look impressive and present her charms in front of her partner. Garter belts are used to support stockings and provide comfort in use, they match perfectly with the lace lingerie set in which a lady can feel elegant and seductive.
 Shop Here: Lace Gartner by Zivame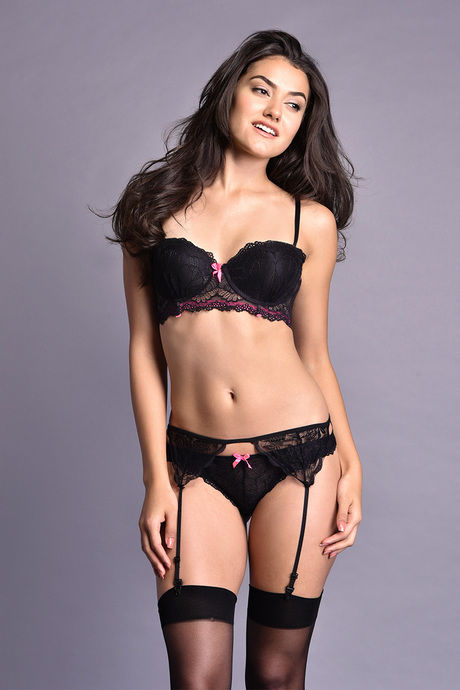 Silk Chemise
A low-cut, lace-edged silk chemise is all you need to turn up the temperature in your room, especially after a good working day. Silk chemises are sexy…but in a more sophisticated way. They are more elegant and luxurious to look at, which are perfect for a candle light night in with your partner.
Shop Here: Silk Chemise by Clovia