Is it just me, or is it getting crazier out there? – Arthur Fleck 
Not a horror tale but a dark, gritty comic book film led by Joaquin Phoenix, the ferocious actor. A film that's heard the words "toxic", "cynical" and "irresponsible" slap on it one too many times. 'Joker' itches you to think in more ways than one as your heart throbs harder than ever.
Once upon a time, when Bruce Wayne was far far away from his cape and cowl, just a little child; 'Joker' witnesses the birth of Batman's arch nemesis, the Clown Prince of Crime.
Joaquin Phoenix gives a grisly performance as Arthur Fleck. His presence, every time on your screen, will leave you paralysed in your seat. The actor seems to be lost in the role so much, you start to worry about him. Joaquin Phoenix was never better. He masterfully makes sure you soak every bit of his misery as he descends into violent madness. The physical and emotional depths Joaquin Phoenix goes to in the film are enough to leave you horrified.
A lot different than his past incarnations, Gotham City's most infamous super villain is loveable, you realise, and that he even has a heart. What wins is the way he moves, animalistic, like a rock star. Oh the nuanced way his body can express emotion! Oh how beautifully can one see his mind at work!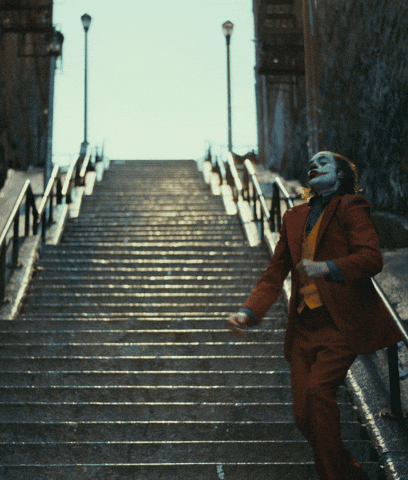 As Fleck attempts to brighten people's lives as a clown, he only receives cruelty from pint-sized hearts. Arthur Fleck turns into a killer only after he is bullied, beaten, and humiliated; he's 'driven' insane.
'Joker' represents the world as he sees it – Ruthless. Would you dare to fully immerse?