It makes you see what it wants you to see…
Oculus is a 'haunted object' film – that genre in which demonic forces possess an otherwise un-threatening item that one couldn't possibly predict would wreak havoc in life. Here, that item is a haunted mirror. And Mike Flanagan and company play it right with the Lasser Mirror, resulting in a reasonably intense and suspenseful film. It's a film that relies less on blood and violence when compared to many other modern horror films; it's also a film that doesn't jolt an audience into submission, but rather Oculus gets under the skin. Of course, the haunted mirror isn't just some ordinary wall hanging; it is an antique piece with a history. And along with us, siblings Kaylie
(Karen Gillan) and Tim (Brenton Thwaites) also learn that lesson.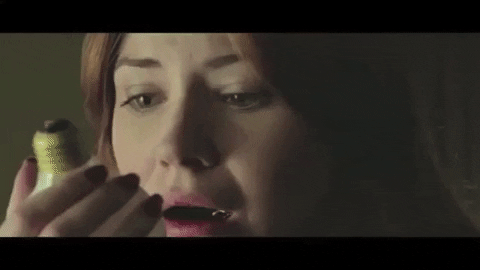 When we first meet them, they are young adults, 11 years removed from a horrific night involving the certain antique mirror- horrific enough for Tim to have spent the intervening years under professional psychiatric care and the obsessed Kaylie spending years researching the history of the mirror. The results of her investigation have firmed up her conviction that she and Tim are obligated to destroy the thing. When skeptical Tim and gung-ho Kaylie show up at their childhood home to set things right, they naturally get far more than even they bargained for, as the mirror in question exhibits a knack for getting into their heads and confuse them with what's real and what's not.
In the process, Flanagan walks a fine storytelling line; he doesn't just switch back and forth between Tim and Kaylie's current ordeal and their 11-years-prior backstory. Rather, he blends them, as the mirror forces the older Tim and Kaylie to relive that harrowing night. This opens the door for Oculus' most clever trick as Flanagan does an end-around on the age-old horror-film cliche in which characters stick around far too long in a clearly dangerous situation when any sane person would have hoofed it for the hills. When things get truly bizarre, Kaylie and Tim want to escape, they want to run, they want to be hill-bound, but the mirror has other plans.
So if you find mirrors spooky, Oculus gives you a damn good reason to stay away. And if you love to check yourself out in the mirror, this low-budget thriller will compel you to think otherwise.