Menstrual cups are medical grade silicone made reusable bell shaped female hygiene cups which upon insertion collects the menstrual blood flow. Curious whether to use or not to use these little cups during the worst time of your month?Let's clarify all those questions popping in your head one by one.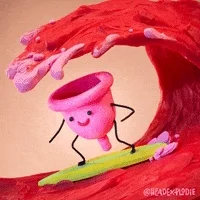 1. No more trips to the restrooms to change every 3-4 hours and there's more, it feels like there's absolutely nothing down there. Menstrual cups are safer and long lasting than your pads and tampons. After successful insertion, they can last for up to 12 hours at a stretch, more than pads and tampons.
2. Safe for MAMA EARTH. We all know sanitary napkins are non biodegradable, tampons,on the other hand, create an environment for bacteria to survive due to the soaked blood, this later on harms our planet earth when disposed. This makes these menstrual cups non toxic.
3. Now time for a little Math here. On an average, 300 bucks are spent on sanitary napkins every month, which results in 3600 bucks each year, lifetime spending would be gigantic, whereas a menstrual cup would cost just 300-3000 rupees. On an average, single cup can be used for 4-10 years, win win situation your wallet as well.
4. Menstrual cups will provide you the convenience you have always craved for. It comes with zero leakage issues, 12 hours complete protection and sleep comfortably in whichever position you wish to. Well, what else do we need.
5. Last but not the least, it's super easy to clean, just wash it in soapy water or rinse with diluted vinegar solution and you are ready to use it again.
Menstrual cups can be easily purchased using both online(sites) and offline(pharmacies) methods, so time to say goodbye to your tampons and pads. Let these environment friendly, non toxic, pocket friendly, super convenient cups be your forever.