How many times have we stopped ourselves from stepping out of the house because of soaring high temperatures? The very thought of the burning heat outside makes us cringe and shudder within the comforts of air conditioned rooms of our homes. However, times are changing and so is technology.
You no longer have to dread at the thought of leaving the cool corners of your home because a wearable air conditioner is now no longer a pipe dream. The new portable AC, called Reon Pocket is smaller and lighter than a mobile phone and releases cool air through a small rear panel. The revolutionary device works with a rechargeable battery, which last for more than 90 minutes after two hours of charging. The wearable device is compatible with both inner and outer wearable and can be controlled by your smartphone via Bluetooth connection. Can it even get any more millennial?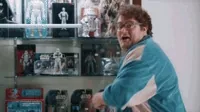 The manufacturing company Sony has claimed it has adopted Peltier element for this AC which is normally used in car and wine coolers. Sadly, the device isn't for sale yet, it must be crowdfunded first; and if it makes its goal of Rs. 66,000,000, Sony expects to ship it by March 2020. In any case, the promise of mobile cooling is too tantalizing to ignore.